Why use The OT Practice?
We understand the importance of prompt, reliable and high quality care when it comes to choosing occupational therapists to deliver local authority services. We offer:
An office-based account manager who is also an experienced OT, as a single point of contact for our local authority clients
Director oversight of all local authority relationships
Transparent, fixed fees per assessment which are inclusive of travel costs
The largest nationwide network of private occupational therapists in the UK, all with at least five years' post-qualification experience covering all clinical specialisms
A strict selection, interview and registration process for OT Practice therapists to guarantee only the highest standard of care
Specialist adult and paediatric client management and therapy teams
Regular KPI reports to guarantee accountability
A secure project management system, with client access allowing you to monitor progress and performance
Encrypted email systems for secure data exchange
Benefits of outsourcing to The OT Practice
Outsourcing is a cost-effective way to reduce waiting lists quickly, without the ongoing overheads of increasing staff numbers
Reduced workloads boost morale and reduce the frequency of complaints
Funding approval is likely to be straightforward given our fixed pricing per case
Waiting list projects can also be funded through vacant post funds
Your projects
We appreciate the importance of a bespoke service that fits seamlessly with your other deliverables and work schedules, and so we have no one-size-fits-all packages. All our quotations and Statements of Work are tailored to your individual requirements.
With your approval, a dedicated in-house accounts team will provide management and administrative support to ensure the project is delivered on time and in budget.
Tender opportunities
With ten years' experience delivering cost-effective projects for local authorities at an exceptional level of quality, we always welcome the opportunity to submit a tender for occupational therapy work or related projects for local authorities.
WHITE PAPER
Ending occupational therapy waiting lists
In November 2019 The OT Practice commissioned an independent report by Sheila Mackintosh into Local Authority occupational therapy waiting lists. To receive a copy please email whitepapers@theotpractice.co.uk.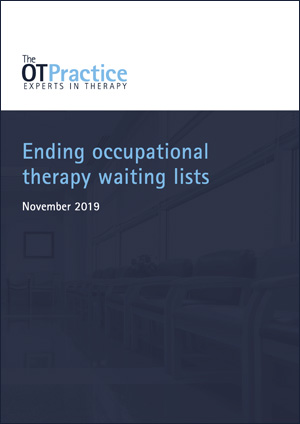 Waiting lists for occupational therapy services have been in existence for so many years that they have now become normalised and accepted. Although it is a national problem, it is not prevalent in all areas. Some authorities have implemented innovative operational procedures and approaches to transform their services and ensure waiting lists are minimised and most importantly, clients are seen quickly.
Evidence shows that delays in clients being assessed by an OT and their needs addressed lead to further costs in terms of falls, accidents, loss of function, hospitalisation, the need for care and a deterioration in mental health. There is wide agreement that we must focus on prevention and the need for faster, more effective and personalised services.
This paper shows the national variation in waiting list patterns, the human costs of having to wait for help at a time of crisis and aims to highlight some best practice approaches. It demonstrates how occupational therapy services might be improved by working collaboratively, using financial resources more effectively and by the commissioning of independent occupational therapy services.