Interested in Private Practice
The OT Practice Deliver Professional Excellence at their 2017 Conference
On 17th & 18th May 2017 The OT Practice held their latest therapist conference, which this year focused on 'Delivering Professional Excellence'. The company which has the UK's largest team of independent occupational therapists, showcased both a specialised and personal two days, in which the associates could develop their clinical competencies, as well as keeping up to date with the most recent industry developments.
Nikki Thompson, company Founder & Executive Director says "The theme of the conference this year was 'delivering professional excellence' this is something we strive for every day and we structured the event around providing the therapy team with the knowledge and skills they need to achieve this."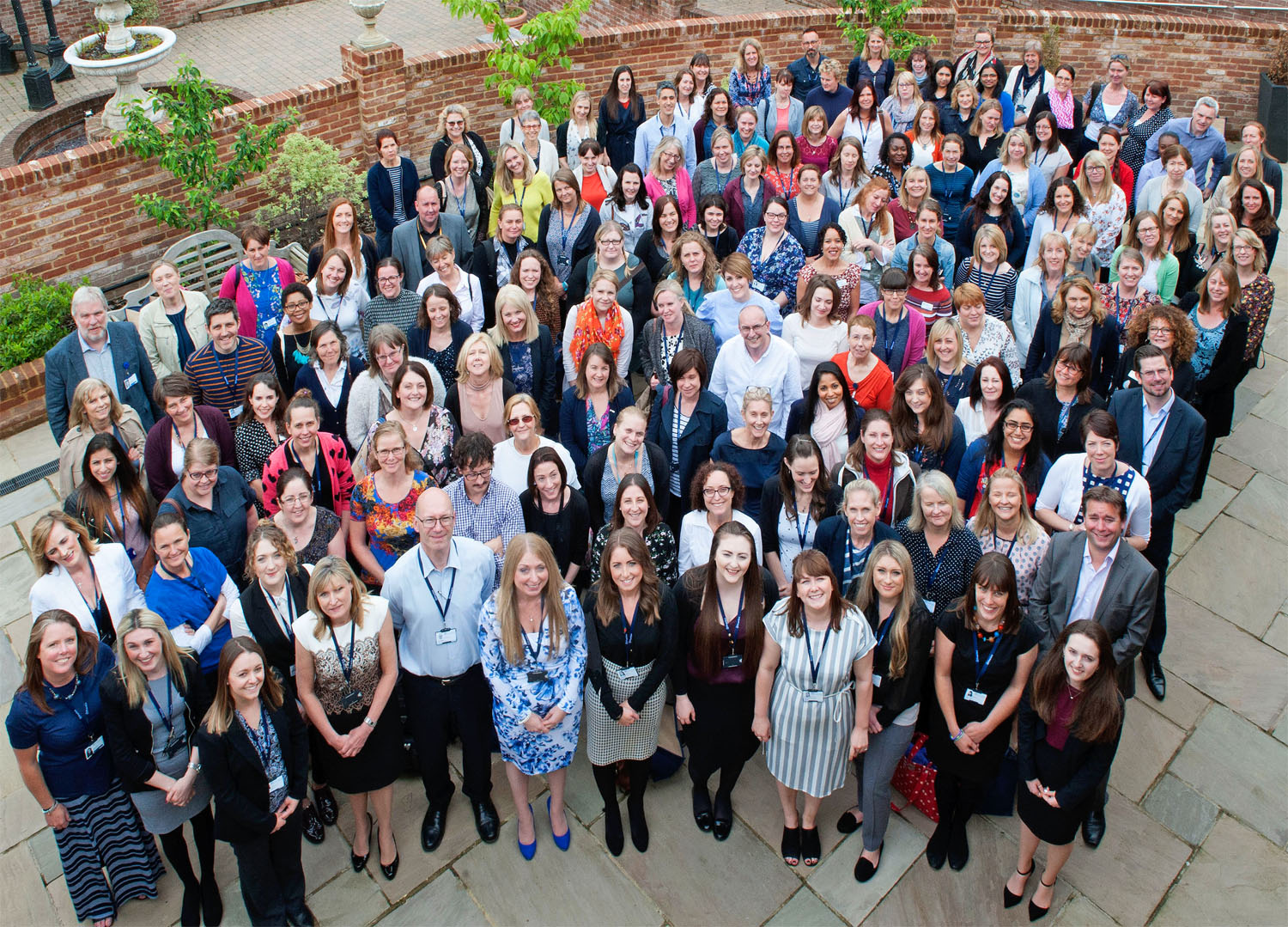 The conference saw over 250 delegates, 80 exhibitor representatives and 14 speakers come together at the impressive Old Thorns Estate, Hampshire, to partake in an extensive programme of inspirational and informative lectures and workshops. The conference programme was designed to deliver useful insight as well as challenge the delegates thinking in order to provide professional excellence through every point of their work with The OT Practice.
"A lot of hard work went into getting the programming right, we recognise that as independent OT's there is a cost associated with taking time out of their clinical work and so we wanted to make sure that everyone who attended really benefited from their experience at the conference" states Nikki Thompson.
For the first time, The OT Practice opened the conference invitations to friends of their therapy team. This gave OT's with over 5 years post-qualifying experience, thinking of a career in independent practice, a unique opportunity to attend and benefit from a free learning experience as well as network with therapists who are leading the way in the world of independent occupational therapy.
Wendy Giles, HR Director at The OT Practice and organiser of the event says "I am particularly pleased with the response to our 'bring a friend' invitation. It was hugely successful, allowing us to showcase what it is really like working with The OT Practice and for potential associates to get a true sense as to the professionalism and scale of the company."
Day one kicked off with a series of informal workshops, an additional element to this year's conference. Each delegate could tailor their day with a selection of relevant training allowing them to focus their time on the learning area that would most benefit them. Sessions included Safeguarding, Moving & handling, CPR, IT and HR clinics.
"I found the delegates engaged in the subject matter and were very willing to participate in lively discussions." Stated Kate Lovett, Director of EDGE Services who hosted a workshop at the event.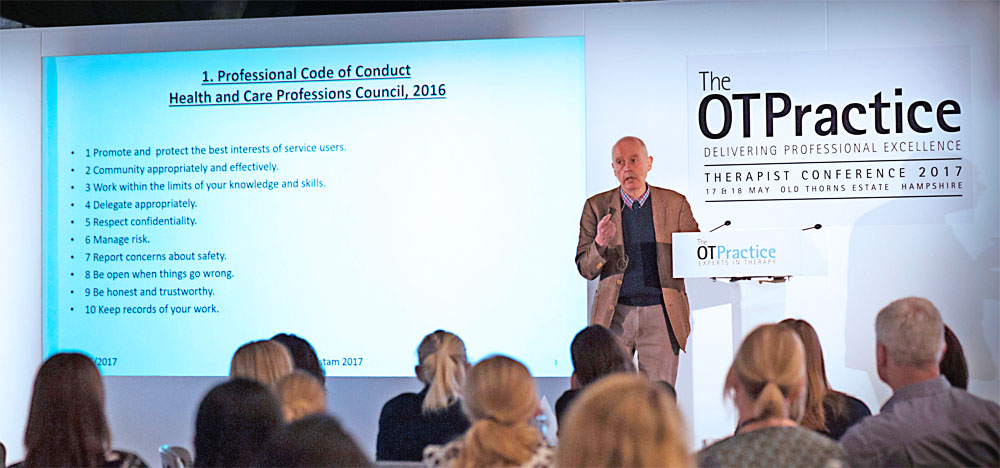 Michael Mandlestam a leading legal trainer also agreed with the success of participation, stating "The OT's asked some very insightful questions and it was interesting to learn more about their work in the private sector."
However it wasn't all work as the day came to a close with a networking drinks reception allowing the exhibitors, therapists and company's internal team to socialise on a personal level in a more relaxed environment.
This personal touch which was replicated throughout the conference was recognised by the delegates as one attendee, Sam Roberts, says "I've been in private practice for a long time and I have so much respect and appreciation for how much you value your associates. Everyone knew my name before I had even spoken to them and that really mean a lot, that I wasn't just a number."
Day two opened with a welcome from company Director Nikki Thompson who took the team through the companies successes of the past and exciting plans for the future. The following series of workshops held by The OT Practice office team offered support and information on leading and raising clinical care standards in the independent sector.
"It was fantastic to meet so many of our therapists face to face as this is a rare opportunity. It was great to be able to put a face to a name and get to know them a bit better. The sessions offered great learning/refresher opportunities to go over some of the basics and also more specialist aspects of our work." Commented Victoria Clark, Adult Client Manager at The OT Practice.
"It was a great opportunity to be amongst so many OT's all keen and motivated towards the same goal."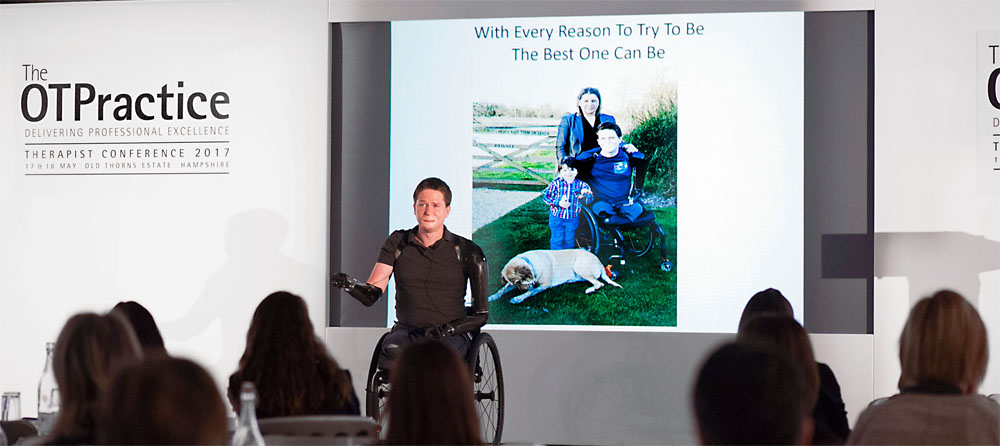 The conference concluded with the inspirational guest speaker Alex Lewis who in 2013 underwent a quadruple amputation and extensive skin grafts, following an adverse reaction to 'the common cold'. Many therapists commented on how his talk influenced them, saying "Alex was just such an inspiration. He will stick with me for a long while as I go about my OT work." And another added "I especially enjoyed the talk from Alex, it just reminded me why I became an OT in the first place"
The conference was The OT Company's most successful to date with not only with such high delegate and exhibitor numbers but also from the overwhelmingly positive feedback from the delegates who attended, praising the company on their professionalism whilst knowing their therapists as individuals. Something which is at the heart of the company's ethos.
"Big thanks for all the time and attention you give us" said Holly Coad, while Hannah Long added "I've said it before but I do really enjoy working for your company, I've done bits with others and nothing compares to The OT Practice, the team are so committed and professional!"
---
Whilst you are here…
We are always looking for motivated and professional therapists to join our team. If working with The OT Practice is something that interests you, visit our recruitment pages for more information.
Or give us a call on 0330 024 9910.
Related topics
View articles by topic
General
Problems we solve
Conditions we treat