Our Experts' Blog
From Recovery to Record-Breaking Success: Tim's Story
by Jo Quinton
Jo, one of The OT Practice's expert Occupational Therapists, met her client Tim in 2018. In this article, she shines a light on Tim's amazing story of recovery and his recent Guinness World Record success.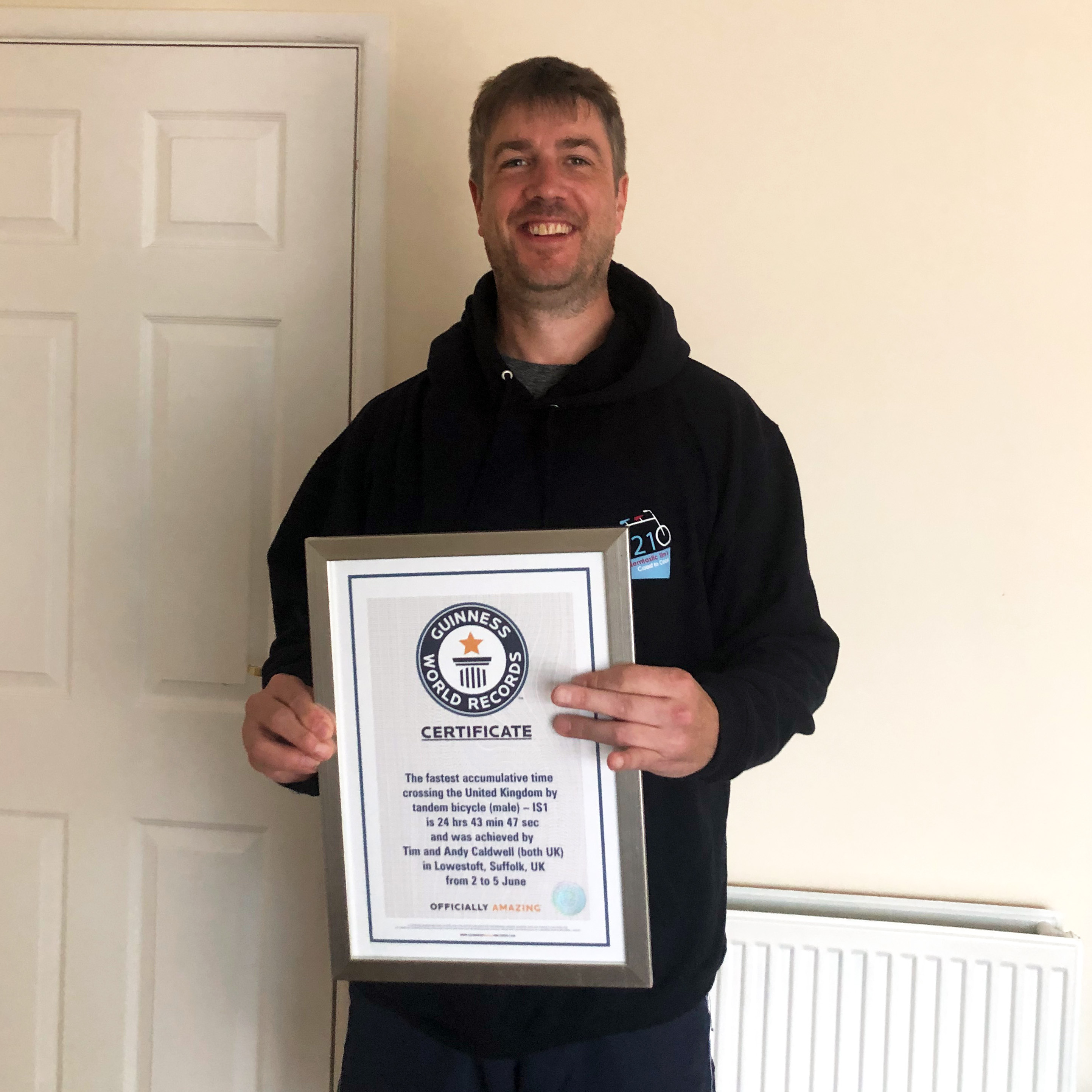 Tim was a fit and well 37-year-old man; married with five children and running his own successful business refurbishing alloy wheels. In 2013 he experienced a cardiac arrest due to an undiagnosed heart condition, Wolff-Parkinson-White syndrome. Following many years of therapy, battling with blindness, short-term memory problems and left sided upper limb monoparesis in particular, Tim has gone beyond all expectations.
Earlier this year Tim set a new Guinness World Record for the fastest accumulative time crossing the UK by tandem bicycle, which he completed with his two cousins in a time of 24 hours, 43 minutes and 47 seconds.
This was a major achievement for Tim, who did not engage in any exercise prior to the cardiac arrest. Through cycling, Tim has gained the confidence to join a cycling club and has identified other sporting activities in which he would like to engage, including planning for his next record-breaking attempt later this year!
---
I first met Tim in 2018, at the time of his referral to The OT Practice. I feel privileged to have been involved in his rehabilitation over the past three years, and see him progress in so many ways, but most importantly, in his wellbeing. Although the original referral specifically requested assessment for bathing adaptations, it quickly became apparent that was not Tim's priority.
The initial occupational therapy assessment identified many areas of concern including physical, cognitive, social, emotional and psychological issues.
My initial recommendations included:
OT sessions to address memory problems
Provision of a door locking system
Provision of suitable computer software
OT sessions to increase independence in the kitchen
Further OT assessment of smart technology to enhance independence
Re-housing
Consideration of an assistance dog
Referral on to neuropsychology and neuro hand therapy
Over the following 3 years, Occupational Therapy played a very important role in Tim's progress, not just in functional areas but particularly in helping him to identify what he wanted to do and how to progress with those ideas independently.
Whilst we addressed the basics that were important for Tim's activities of daily living, what really mattered and inspired him to go on to his amazing world record attempt were the steps beyond this. Crucially, this involved incorporating technology into parts of Tim's therapy. This included setting up voice activated books to aid concentration when training, assessing for an appropriate exercise bike for training and practise using the functions, assessment and use of a smart watch, and joint work with an engineer from the charity Remap to identify an appropriate wireless charger for the mobile phone. I also recommended Speech and Language Therapy to aid the use of voice activated technology.
Tim describes occupational therapy as his favourite aspect of therapy because "it's the fun stuff; what I actually want to do". He was kind enough to agree to a short interview with me to share his views regarding Occupational Therapy and his recent world record.
---
Your referral for OT came from your case manager in June 2018 for assessment for equipment and adaptations. What do you remember about how OT has helped / what was most important?
Jo has been very helpful with all of my equipment needs and we've been to lots of specialist places, including to a place called Kino where I got my key lock system.
Over the years Jo has supplied me with various equipment like forks, chopping board, etc. everything you could need within the household.
To me the tech stuff is more important than anything else. So, the computer, the chargers, etc. she's done a lot of work whilst I've done nothing really! Jo understands what I need and what I'm interested in.
What made you start doing the tandem rides?
That came around in 2016. I separated from my wife, I was in a little flat and feeling very down. My cousin came to see me and he suggested doing a bike ride for charity, The British Heart Foundation, so I said yeah why not!
We got a tandem and did a 40 mile ride. Then we did the Heaton Park round trip, that was 60 miles. And then Andy, my cousin, came up with this stupid idea to do Land's End to John O'Groats! Which we did in 2019.
And the world record?
We recently did a coast to coast ride which took us 24 hours altogether and that's put me in the Guinness Book of Records for the first disabled person to cycle across the coast. The training for it was hard, 3 hours a day on the exercise bike and running up a massive hill.
Jo helped me get the exercise bike, we went to The Trafford Centre and tried different ones to find one I could use. I reckon it's done about 5000 miles!
It was a great achievement for me and gave me a massive boost in confidence. I did it with my two cousins and it rained a lot but it was worth it.
When it first happened (the cardiac arrest) I was very depressed but now I think if I can show someone, no matter what disability you've got, if I can do this you can too. If I can give them hope, then I've done something.
What's next?
The next thing is The 3 Peaks, maybe.
Why only maybe?
I'm pretty tired! I might do a duathlon. I've now joined a cycling club and they've got a tandem for us which was in the Beijing Olympics.
This article is mainly going to be read by OTs. Is there anything you would advise for them to consider when working with people with similar injuries?
Patience! Just listen to what they want. It took me a long time realise what I wanted to do and it wasn't what was suggested to me by some people. One person wanted me to play golf – that's not for me, I'd rather be racing round in a car! So yeah, just listen to your client.
---
My conclusions:
The Royal College of Occupational Therapists describes occupational therapy as taking a "whole-person approach" to both mental and physical health and wellbeing and enables individuals to achieve their full potential".
This holistic approach is invaluable for people who sustain a brain injury due to the highly complex nature of issues from the physical and psychosocial effects to cognitive, behavioural and financial problems.
This case was particularly challenging due to Tim also having a visual impairment, which meant that he was unable to use visual prompts to assist recall and learning. Often, equipment designed to assist one-handed function were not appropriate due to his visual impairment and similarly, many gadgets and technologies designed to assist visually impaired people were not suitable because of his cognitive and physical problems.
Some learning/techniques that proved useful:
Closing eyes during certain activities to remove confusing sensory feedback
Repetitive practise and use of music to aid recall
Take time to set goals, over several contacts if possible, to ensure it is a priority and the person is truly engaged
Ensure expectations are managed as the client's priorities can conflict with other parties involved
You can find out more about Tim's Guinness World Record here
Related topics
View articles by topic
General
Problems we solve
Conditions we treat