Our news & press
The OT Practice welcomes Her Royal Highness The Princess Royal to showcase occupational therapy in the independent sector
There was a distinct thrill in the air. All who walked through the doors of The OT Practice on this notable Friday morning couldn't help but sense it... and add to it. Today, staff and invited guests, including representatives from the company's occupational therapist team, practice clients and dignitaries, gathered to mark the official opening of The OT Practice's new Head Office by Her Royal Highness The Princess Royal.
This was a first-of-its-kind visit by HRH The Princess Royal, who – as Patron of The Royal College of Occupational Therapists for over 30 years – has never previously visited an independent OT practice. "All at The OT Practice are delighted and honoured to welcome Her Royal Highness The Princess Royal to our new Head Office and share with her examples of our work and partnerships, as well as our vision for the future of occupational therapy," said Nikki Thompson, Founder and Executive Director of The OT Practice.
The event aimed to showcase the entrepreneurial spirit, passion and integrity that is so prevalent throughout the occupational therapy profession and in this unique organisation.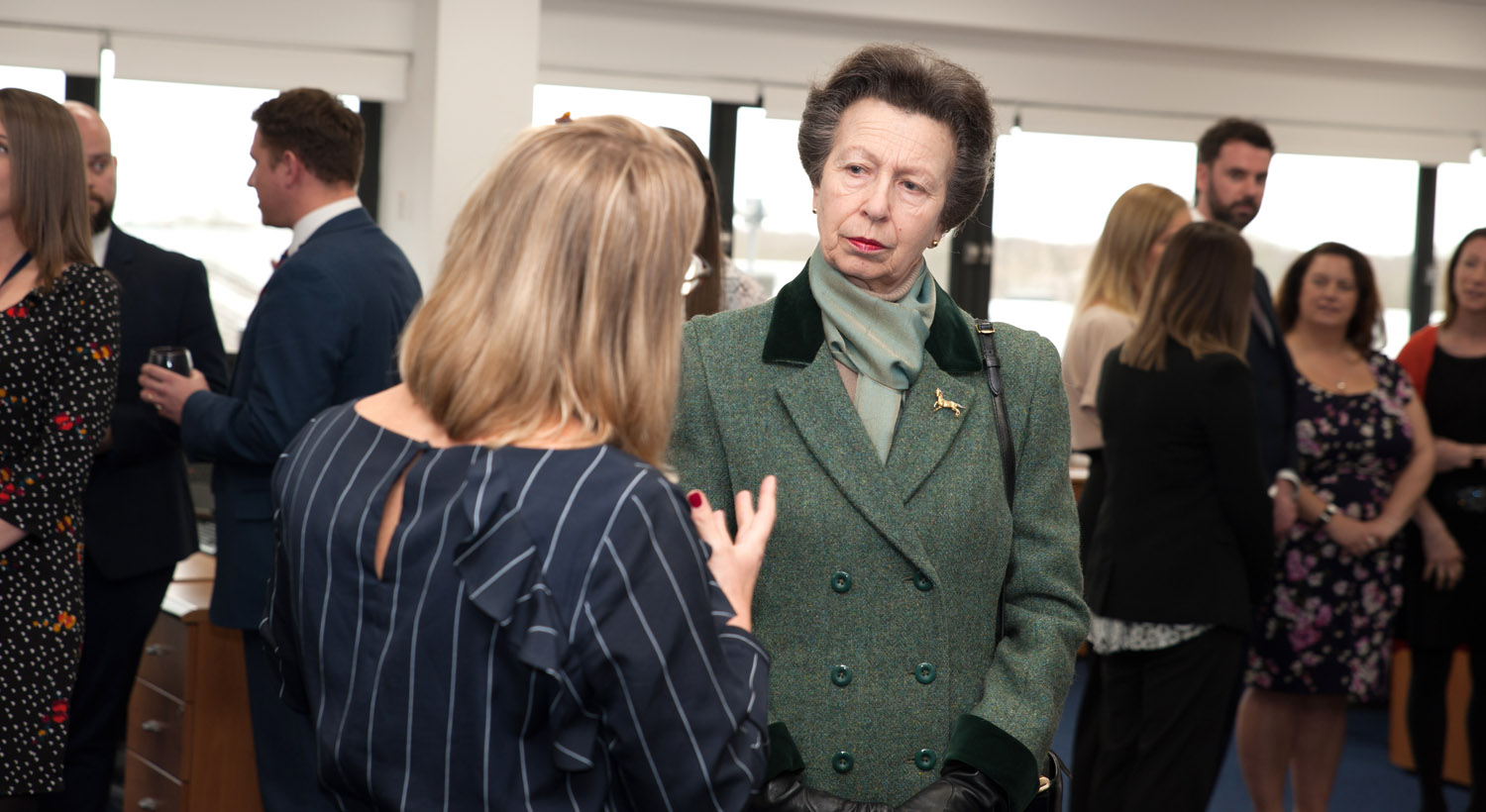 Upon her arrival, HRH The Princess Royal was introduced to some of the independent OTs working with The OT Practice, as well as military charity, local authority and NHS partners, plus commercial sector case managers. She spent time with each representative, hearing about their personal experiences, the ever-changing landscape of their respective sectors, and the positive impact that working in partnership with The OT Practice has made to the lives of their clients and beneficiaries.
"Her Royal Highness' presence at this event today underpins what we already know about the professionalism and quality of The OT Practice," remarked Sebastian Hargreaves, Head of Welfare & Volunteer Services at SSAFA. "We use the team for our OT assessments and the process we have in place with them is seamless."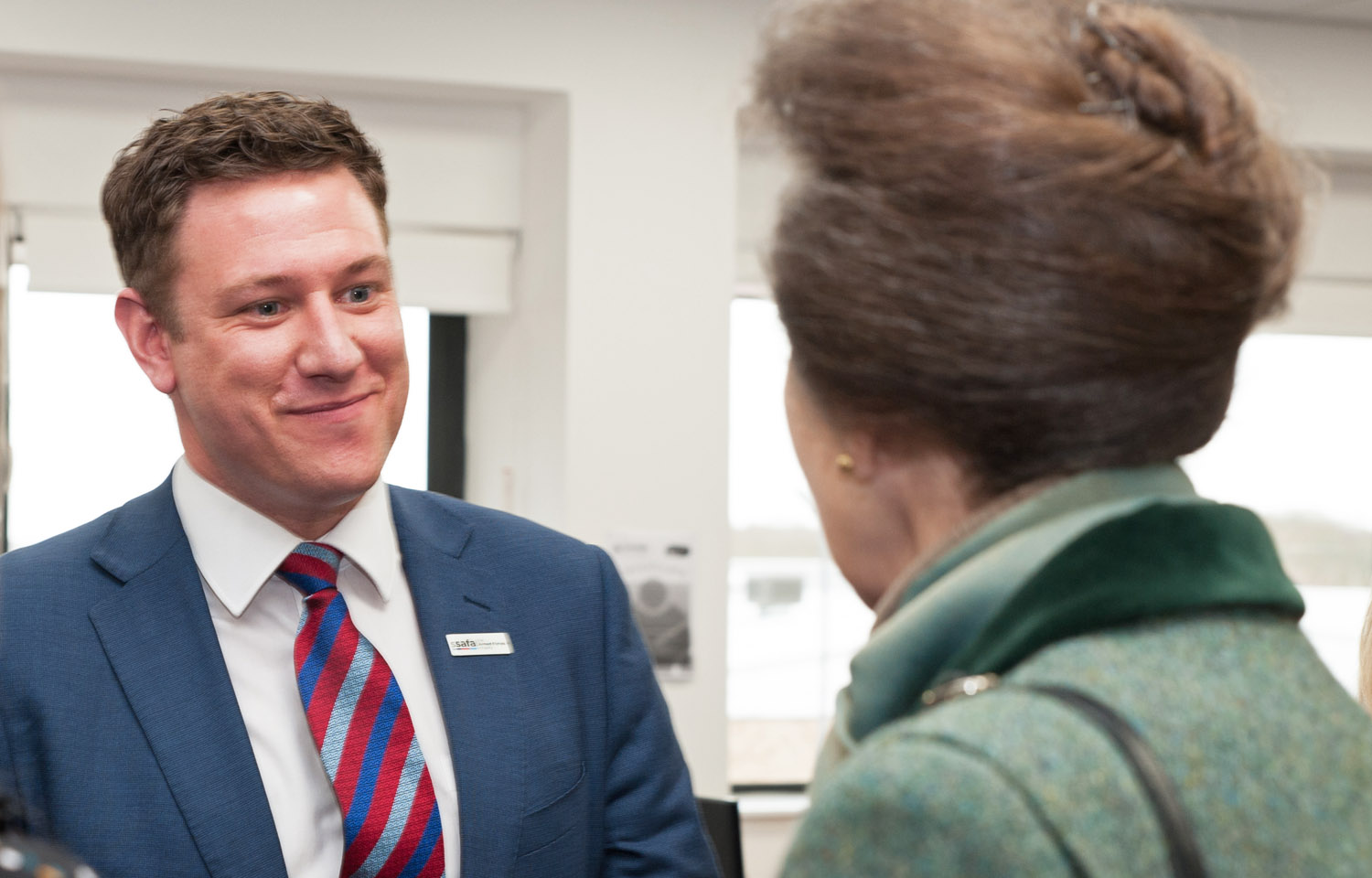 Sebastian's comments were supported by Karen Hicks, Welfare Executive at the Royal Air Force Benevolent Fund, who said "This visit by Her Royal Highness demonstrates that we've made the right choice of partner in The OT Practice. Working with them, we aren't just meeting the needs of our beneficiaries, we're doing so much more to improve their respite, care and lives."
"It's wonderful that The OT Practice is receiving such well-deserved recognition for their work," added Edward Robinson, Grants Manager at The Royal British Legion. "Their holistic approach, expertise and fantastic service set them apart. Quite simply, we don't believe that our beneficiaries wouldn't get as great a quality of welfare from any other provider."
HRH The Princess Royal next met with past and present clients of The OT Practice, as well as Alex Lewis, the organisation's Brand Ambassador. Catrin Pugh, former client, briefly shared her story: "Having experienced 96% third degree burns and spent three months in an induced coma, when I was ready to start therapy all the daily tasks we take for granted had been taken away from me. I was desperate to be able to wash my hair, do my own make-up. How my OT, Nicola, personalised, designed and conducted all my therapy made a huge difference. It was fun, involved my whole family – even the dog! – and proved incredibly effective. Today, the movement and use I have of my hands enables me to live completely independently."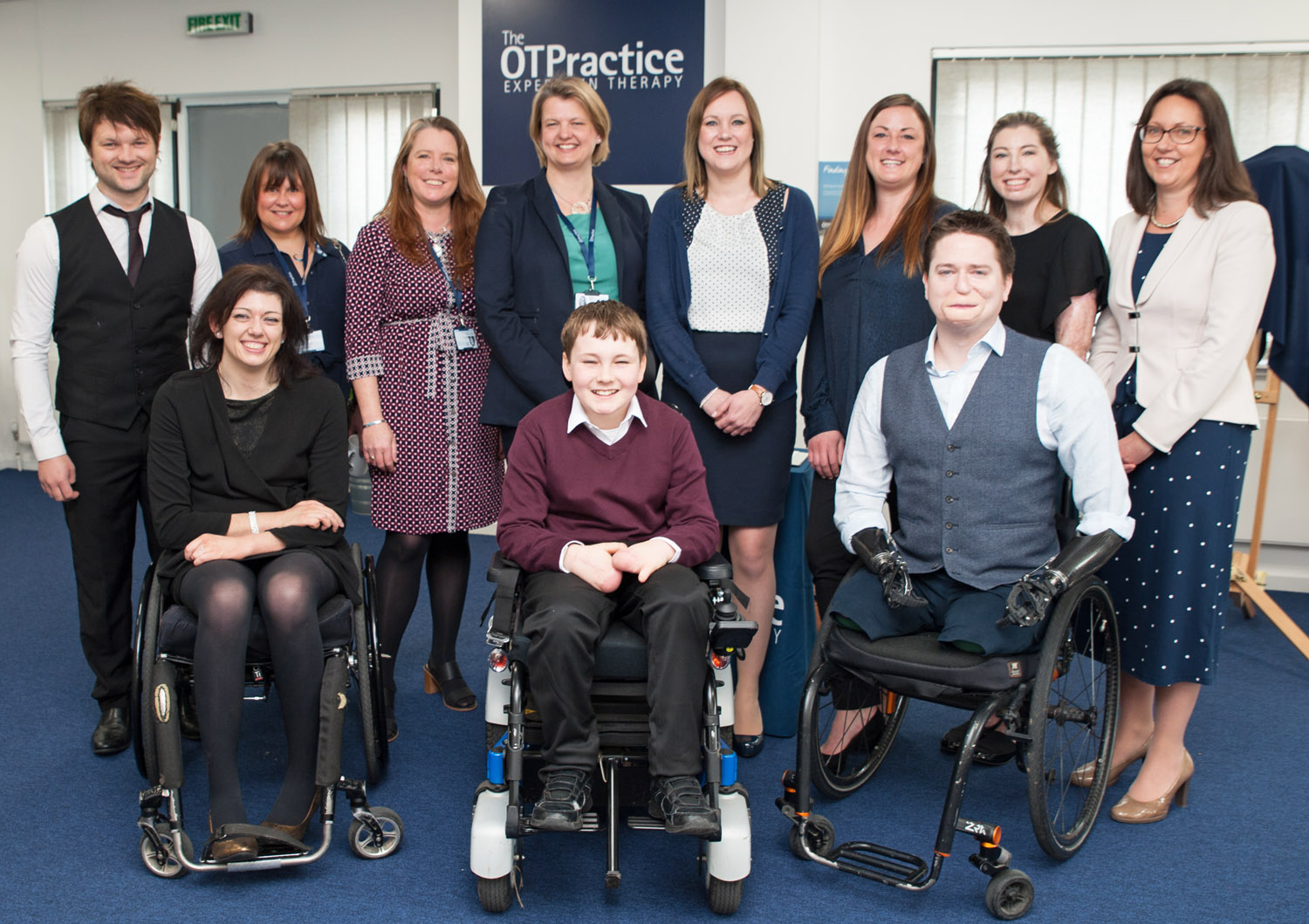 Grace McGowan, another former client, also shared the impact that The OT Practice had on her life after a serious road traffic accident resulted in paralysis from her chest down. "The architect developing my house recommended The OT Practice. They stepped in at the last minute and the work Katrina, my OT, has done enabled me to access every area of my home safely, freely and independently. Thanks to innovations in assistive technology, I can now also control the lighting, heating and access to my home simply via my smart phone."
Towards the end of the event, HRH The Princess Royal addressed Nikki and all The OT Practice staff and guests. Her speech praised the progress made by the practice, how the competence and quality of their work is evidential in the levels of independence their clients achieve, and she wished them luck in the next phase of their development.
Dr Patricia McClure, Chair of Council for The Royal College of Occupational Therapists also spoke, mirroring HRH The Princess Royal's comments and thanking The OT Practice for their invaluable work, personalised levels of care and unique contribution to the profession.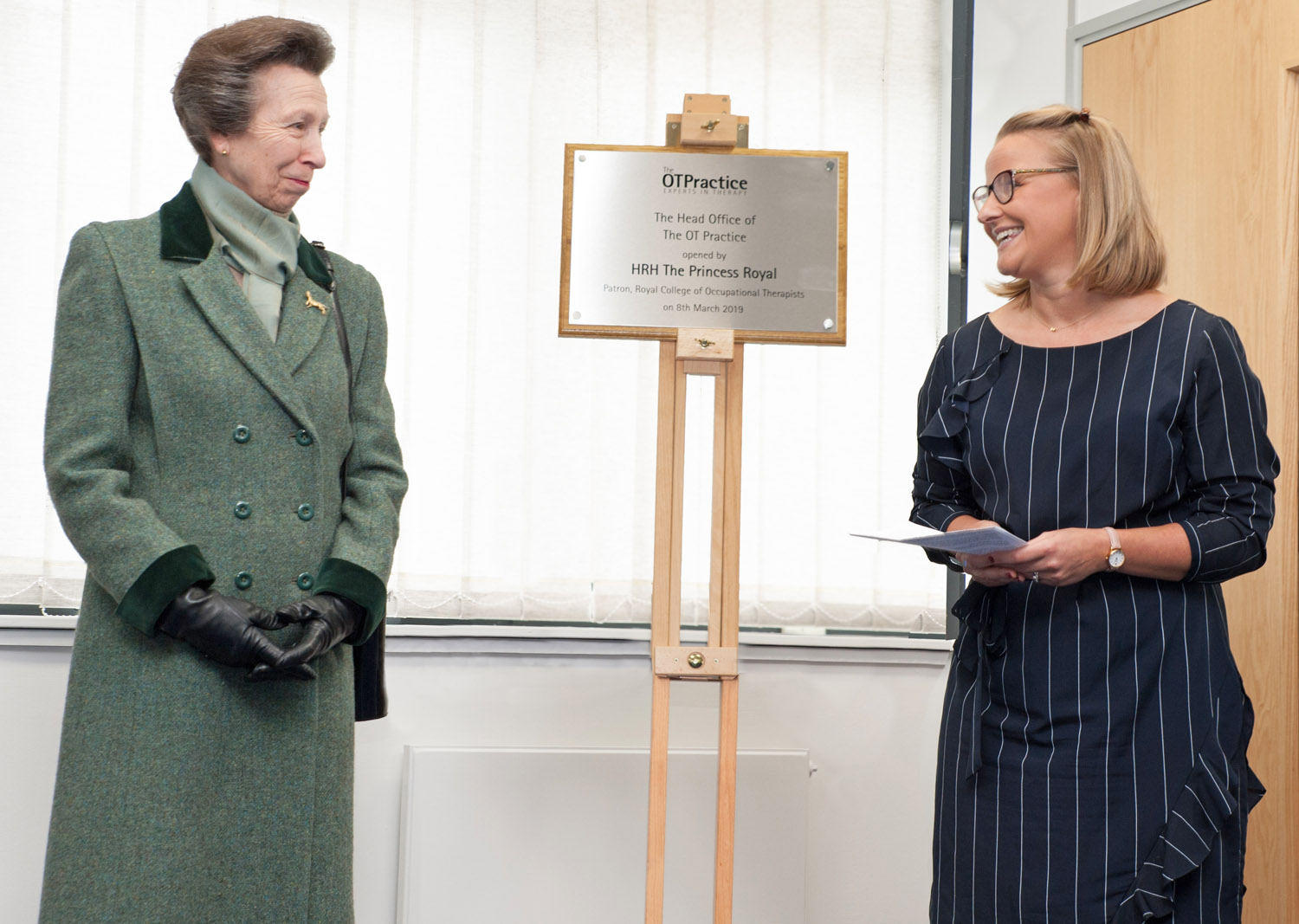 Upon unveiling an official plaque to commemorate her visit, HRH The Princess Royal was presented with a posy of flowers by William Dyer, current client with The OT Practice. William commented that he very much enjoyed presenting the flowers to Her Royal Highness and was excited at the prospect of being "famous in school because of this!"
William, age 10, has a below knee amputation on one leg and had most of the fingers on both hands amputated when he was a baby. His mum, Victoria, joined him at this event and shared their experience of The OT Practice. "The input of William's OT, Jane, is invaluable. She has organised, and continues to organise, everything for him... as he grows, she grows with him, meeting his changing needs. Importantly, Jane enables me to remain as William's mum, first and foremost, and allows our family – including William's two younger siblings – to continue functioning."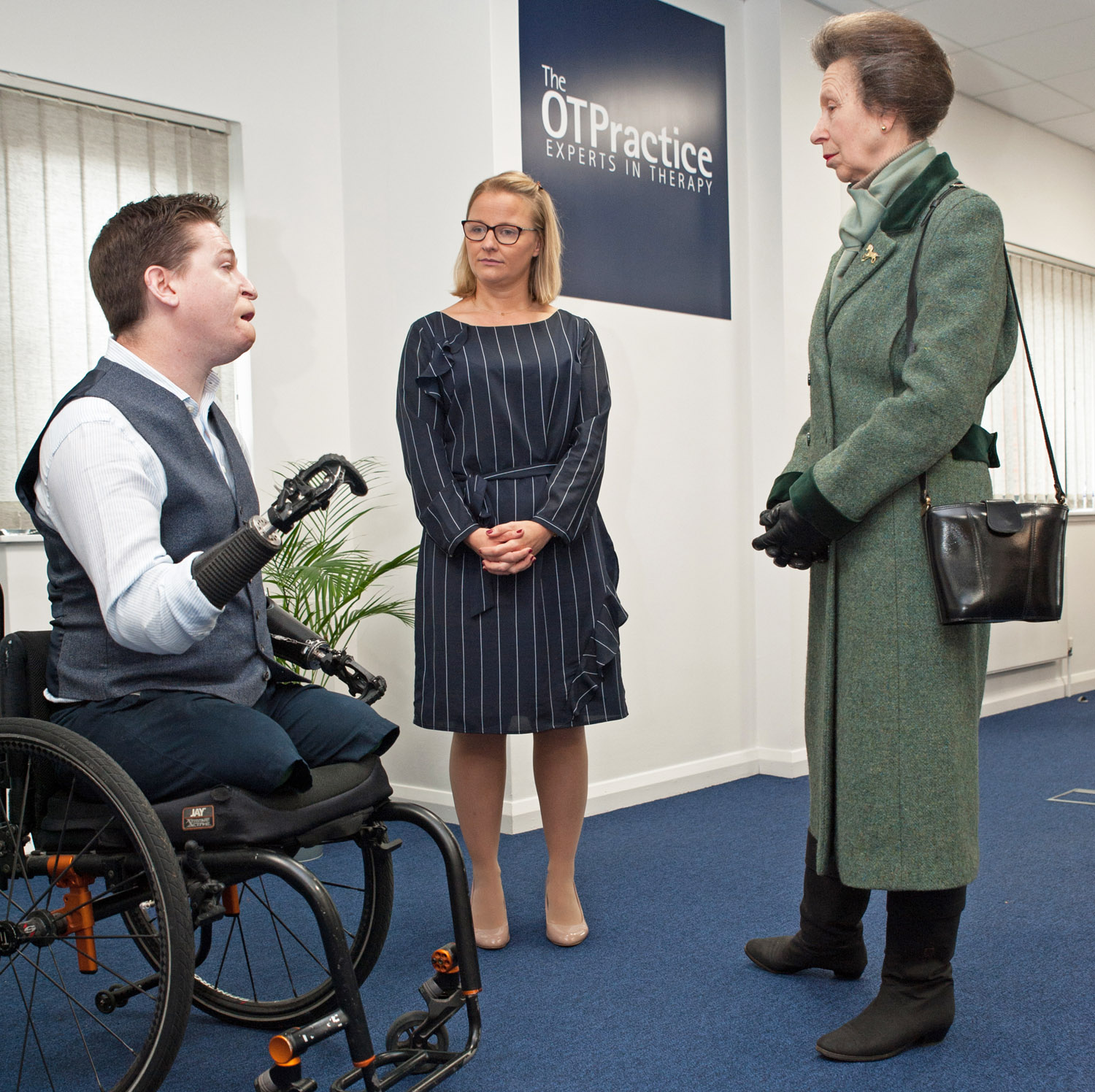 William was also very pleased to speak with The OT Practice's Brand Ambassador, Alex Lewis, himself a quadruple amputee after contracting Strep A just over five years ago and experiencing a series of life-changing complications. Alex's infectious humour and positivity, as well as his vast experience and knowledge in innovative rehabilitation for amputees, no doubt left a lasting impression on William, as well as other guests. "Both The OT Practice and I are driven by how we can make things better for people like me," noted Alex. "They experience such a wide variety of specialist cases, keep abreast of the latest and most effective solutions and offer immediacy to their clients, helping them at the right time and in the right way. Finding a team like The OT Practice four or five years ago would have considerably helped my own recovery."
Indeed, as the practice enters its tenth year, the team show no signs of slowing down. Quite the opposite. In response to the changing landscape of OT, they have recently restructured how their therapist network operates, establishing Specialist Clinical Teams around the areas of Neurological Rehab, Paediatrics, Hand Therapy, Housing, Seating and Functional Rehab. Backed by a fully supportive infrastructure, this reorganisation enables The OT Practice to tailor their services to the increasing number of highly specialist cases presented to them. In turn, their therapists are empowered to continue approaching every case proactively and innovatively, enhancing rehabilitation potential and upholding the unparalleled standards of clinical and client care for which The OT Practice has become so renowned.
"The OT Practice team are consummate professionals," commented Ben Dawson, Rehabilitation Solutions Commercial Director at HCML. "They run a very tight ship in terms of processes and operations, and we especially value the breadth of their specialism in hand therapy, re-homing, neurological rehabilitation and paediatrics."
Gavin Austin, Assistant Community Services Manager of Bracknell Forest Council agrees: "We've worked with The OT Practice for almost a decade now. They are the oil in our engine; filling any gaps in what we can't offer specifically in the specialist areas of dementia care and home adaptations. Knowing they are there to step in whenever we need them is hugely reassuring."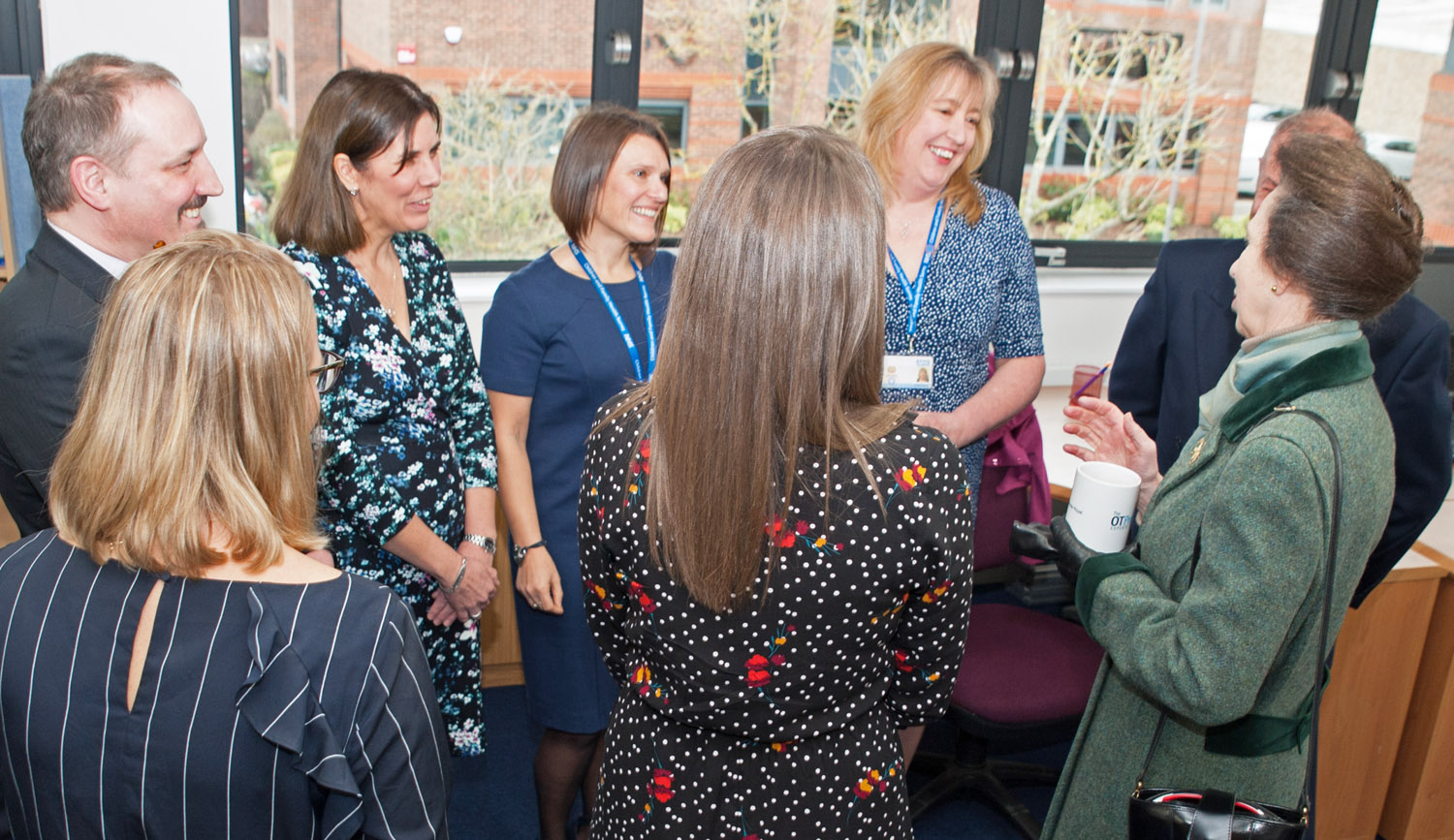 "Our collaboration with The OT Practice is a win-win situation all round," added Sandra Pycock, Children's Service Manager at Central Surrey Health. "Without their particular paediatric expertise, positive approach and network of specialist OTs, we wouldn't be able to keep pace with the demand on our services. Our children are seen and supported sooner, preventing the emergence or growth of more needs. As a result, the children remain in mainstream education – something both they and their parents highly value."
It goes without saying that The OT Practice are a busy and thriving team, though each and every one of them – and their guests – wholly enjoyed taking the time out to share in this Royal occasion. Giles Thompson, Managing Director said: "Today has been a great occasion for The OT Practice. I'm particularly proud that both the therapists and our office based teams can come together to share in Her Royal Highness' and The Royal College of Occupational Therapist's recognition of the difference their collective hard work has made – and continues to make – to the lives of our clients."
"It's such an honour to have Her Royal Highness visiting us today and to receive this recognition for what we do," commented Victoria Clark, Clinical Services Manager for Adult Services at The OT Practice. Her colleague, Sarah-Jane Khalil added "It's a wonderful event. You can see from looking around just how much people truly value the work every single person here does."
We couldn't have put it better ourselves.
Related topics
View articles by topic
General
Problems we solve
Conditions we treat